Image: Camping Aaregg, Switzerland
Find the Right Campsite
You've got so many options to choose from: Do you want to stay on a small campsite by the sea? Perhaps you want to treat yourself to a holiday on a large site with a sauna and spa? Or maybe a simple, tents-only campsite in the mountains is enough for you? There are more than 23,000 campsites in Europe for you to choose from, so you're bound to find a few personal favourites. First-time campers should take it step-by-step: Rather than heading out on a grand tour, start by looking for a campsite nearby, and get a feel for camping. Some recommend staying on a smaller site before spending your holiday at a huge holiday park, but that's entirely up to you. Whether you like to keep things simple and do more with less or prefer a lively entertainment programme and a large selection of facilities, the best part about camping is that there's a campsite out there for everyone.
On camping.info, you can find almost any campsite in Europe, see which features each campsite has, and read reviews by other campers to help you make your decision. You can look for campsites via the map, narrow down your selection with a variety of filters, or browse through the camping.info community's Top 100 European Campsites. There are even sites for certain types of campers, including families, naturists, and surfers.
In short: There are plenty of ways to find the site that's right for you!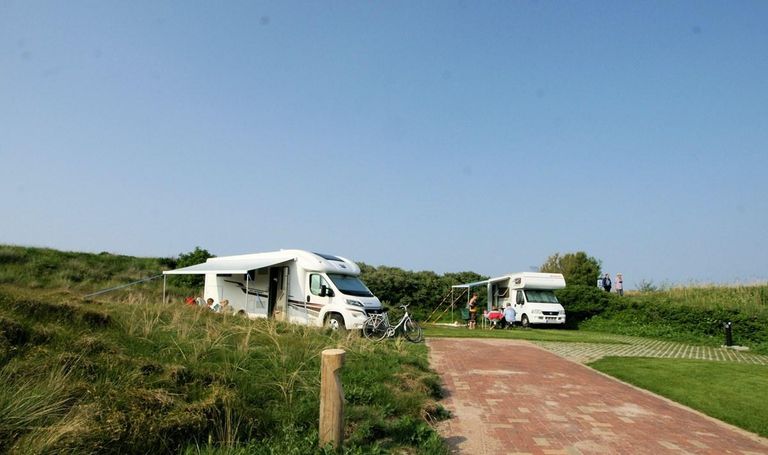 Image: Duinpark en Camping De Robbenjager, Texel, Netherlands
Tips for Picking a Campsite
Once you've thought about where you'd like to go and how you plan to get there, you can spend some time looking more closely at what each site has to offer, so you can pick the one that suits you best.
Divided or Undivided?
Many campsites divide their grounds into defined pitches, giving each camper a specific amount of space. Sometimes these pitches are even bordered by bushes and hedges, which clearly show how much you can spread out.
Small, natural campsites are typically undivided, meaning you can set up your tent or park your camper on any open spot. If you're camping on a campsite that isn't strictly divided into pitches, make sure to keep enough space between you and your neighbour; this way, you won't invade their privacy, nor they yours.
Comparing Prices
Just as diverse as each site's facilities are the prices per night on European campsites. In Switzerland, for example, you'll spend the most on average. Belarus, on the other hand, is Europe's most affordable country for camping. Campsites in Germany charge an average of €28.78 per night, putting them somewhere in the middle of the European price range.
Despite being middle-of-the-road in terms of price, German campsites tend to have top-quality facilities and first-class customer service. In addition to a nightly fee for your pitch or accommodation, it's not unusual for campsites to charge a fee for each guest or add on a visitor's tax. You may also need to pay extra if you bring a dog with you, use the showers, or want to connect to the Wi-Fi. Typically, you'll find a detailed list of prices and fees on the campsite's website. Oh, and speaking of showers: Some campsites have coin-operated showers, so don't forget to bring cash!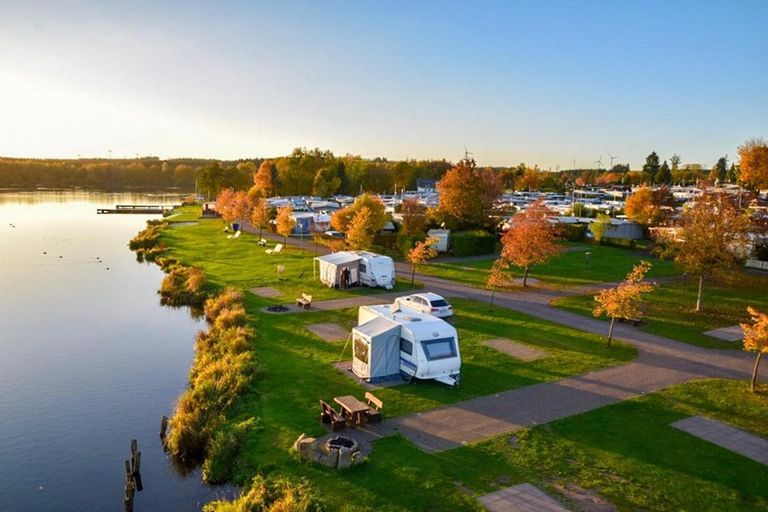 Image: Erlebnis- und Freizeitwelt Nieder-Mooser See, Hesse, Germany
High or Low Season?
Whether you're going camping during peak season or off-season can have an impact on availability and pricing. During school holidays, many families with kids are on the road, making their way to their favourite campsites. Unsurprisingly, this often affects the price and availability of pitches.
If you plan to travel during peak season, we recommend reserving a spot in advance or booking directly. During the low season and in winter, you typically won't have any issues getting a pitch, meaning you can be relatively spontaneous.
Tip: Book your camping holiday online with camping.info — You'll save yourself the hassle of playing telephone tag or exchanging dozens of emails, and you'll immediately receive a booking confirmation, so you can relax and look forward to your trip.
Find Shopping Facilities in the Area
Does the campsite you picked have a small kiosk or maybe even a supermarket? Perfect, then you can breathe a sigh of relief because you don't have to worry about figuring out where you'll buy groceries. Many campsites have an on-site bakery so you can get fresh rolls or pastries for breakfast. Fun fact: At Fortuna Camping am Neckar in Baden-Württemberg, Germany, you can even order bread on your smartphone or tablet!
Find out ahead of time where the nearest shops are to the campsite. You might want to stop and buy food and drinks on your way to the site. Even this isn't an absolute must, though; do whatever works for you. One camper may prefer shopping at home before heading out on holiday, while another might want to eat out every night. Of course, if you plan to cook, you'll need more than just ingredients: We've put together a packing list for your camping kitchen, so you can be sure that you don't forget anything important!
Image: Solaris Camping Beach Resort, Dalmatia, Croatia
Packing
There are differing opinions about what camping equipment is necessary. Some campers like to keep it simple and minimalistic, bringing only a tent, sleeping mat, and a sleeping bag with them. Others have the latest technology on-board, stock their fridge completely, pack their favourite grill, and bring a variety of sun loungers "just in case."
You'll want to consider your mode of travel when you pack. You naturally won't be able to bring as much if you're cycling from one campsite to the next as you would if you're driving a larger motorhome. In most cases, though, less is more. Things probably won't be perfect the first time anyway, and you're sure to leave something behind that you'll want to bring with you on your next camping trip.
Take a look at our ultimate packing list for your first camping trip in a tent, and you'll be ready for almost anything. We also have put together a more general packing list here.
At the Campsite — Now What?
Campsites typically have fixed times for arrival and departure. Be sure to find out in advance when you can check in and when you should check out. Many sites take midday breaks, during which campers cannot check in or out. When you arrive, go to the reception area to sign in and learn about the campsite rules.
Since many campsites are owner-operated, you can use this opportunity to ask all of your questions that come up during your first camping holiday. How long is the kiosk open? Where can I throw out my rubbish? Where are the sanitary facilities? Don't be afraid to tell them you're a first-time camper; that way, the staff can accommodate you.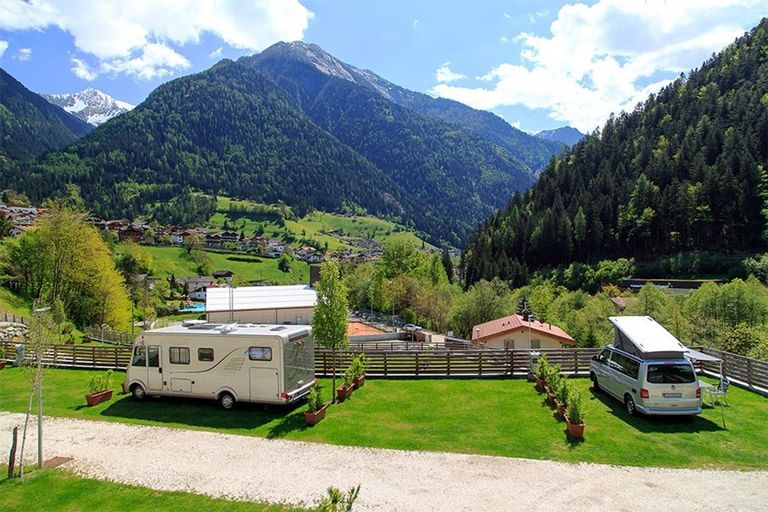 Image: Camping Zögghof, South Tyrol, Italy
Let Your Holiday Begin
Once you've set up your tent or parked your camper and settled into your new home, it can begin. This is the best part of camping, and you can use the time however you like. Enjoy the beauty of the great outdoors, or chat with your neighbours. Campers are often very open and willing to help beginners. Of course, every campsite is unique in this perspective, too. On some sites, campers keep to themselves and stay anonymous, while on others, there's a strong sense of community. You'll be able to figure out what kind of campsite you're on relatively quickly.
Either way, you'll want to avoid making embarrassing camping faux pas: With our tips, you'll master campsite etiquette and become everyone's favourite pitch neighbour in no time. But what you should definitely take to heart: Have fun and enjoy yourself. Camping is a great opportunity to let things go. Don't stress yourself and live a little. It'll automatically be an adventure.
We hope you have a great time on your first camping holiday, and that a few of these tips were useful for you. At the end of your holiday, you can share your experiences with other campers by rating the campsite you visited or uploading pictures of your trip. Happy camping!