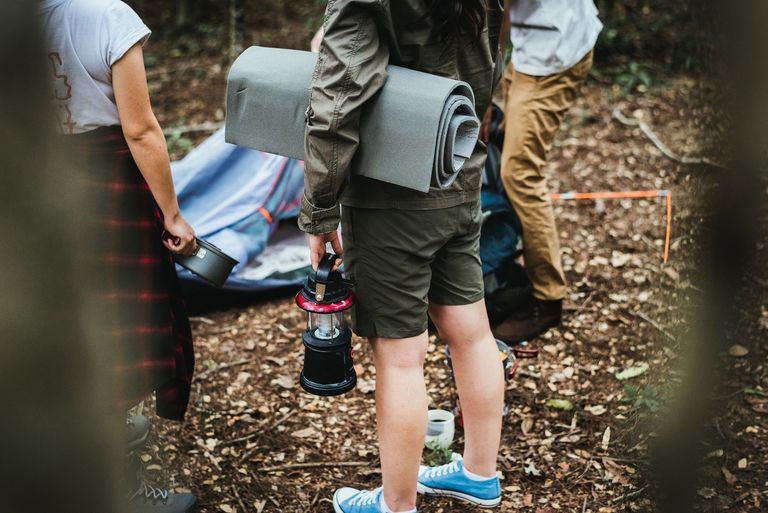 Camping gear © pexels/rawpixel.com
Whether you're drawn to campsites with long-term campers and practically professional outdoorsmen or you're planning a dreamy wild camping trip by the sea — camping definitely requires you to pack differently than you would if you were staying a hotel! Rather than deciding which cold drink you should grab from mini bar, you'll be confronted with more fundamental issues when you go camping. Wind and rain can make something as seemingly simple as preparing dinner on the camping stove considerably more difficult. Then there's the typical annoyances of camper life that you should be prepared for, such as swarms of pesky mosquitoes, stubborn tent pegs or nocturnal neighbors. To help make your camping premiere a total success, we've put together a list of all the camping gear you'll actually need.
Camping Gear
Don't Forget:
Tent & equipment (including a sleeping bag and sleeping mat)

Extra pegs & a hammer
A padlock for your tent

Camping stove with extra gas (make sure it's the right kind for your stove!)

Cooking utensils (pots, pans, strainer, plates, cutlery)

Cleaning supplies
Clothesline and clothespins
Water containers
Headlamp or torch

Pocket knife or multi-tool

Bug spray
Also Useful:
(Foldable) spade

Waterproofing spray
Carabiner

Earplugs & eye mask

A simple meal for the first evening (such as noodles with pesto)

A collapsible bowl or box so you can easily bring your dirty dishes to the washing area and back
Clothing
Don't Forget:
Raincoat or down jacket
Sunglasses

Hat or cap

Sturdy (rainproof) shoes
Also Useful:
Toiletries
Don't Forget:
Soap & disinfectant
Flip-flops
Travel-sized soaps, shampoos, etc.
Toilet paper
Sunscreen
Also Useful:
A sponge bag to hang up
Light, fast-drying towels
Electronics
Don't Forget:
Chargers / charging cables

Extra batteries
External battery pack for smartphones or tablets
Also Useful:
Portable Bluetooth speaker
Miscellaneous
Don't Forget:
Lighter
Debit card / credit card / insurance card
List of emergency phone numbers
Important papers and documents (or copies)
Map / navigator
A travel first-aid kit
Also Useful:
Zip ties and gaffer tape
Candles / tea lights
With these items on hand, you've got all the basic equipment you'll need for camping. You'll just have to pick your clothes based on your destination's climate. If you're headed into the mountains for some hiking, you'll want to bring hiking boots and socks, gloves, a wool hat and blister plasters with you. If you've got plans for a weekend surfing trip in France, on the other hand, you'll need a bathing suit and waterproof sunscreen. No matter what destination ignites your passion for camping — we hope you have a great time there!
If you're still on the hunt for your perfect campsite, you'll find what you're looking for here.