1. Find a Suitable Campsite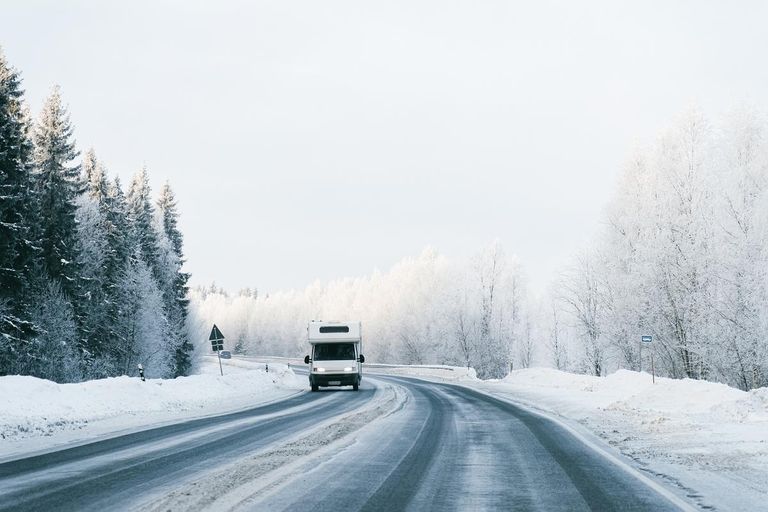 Image: Canva
Finding the right campsite is crucial for a successful cold-weather holiday. After all, you'll want to feel completely at home. Some things you might want to consider: The campsite must be open all year round so you can camp there during the winter in the first place. (On camping.info, you'll find over 3,300 campsites across Europe that offer winter camping!)
A drying room on-site is essential for your wet clothing and skiing equipment. Although they aren't a must, heated sanitary facilities will make your holiday more comfortable, and an indoor pool or a sauna, where you can really warm up and relax after a hike in the snow, can be game-changers.
2. Winterise Your Motorhome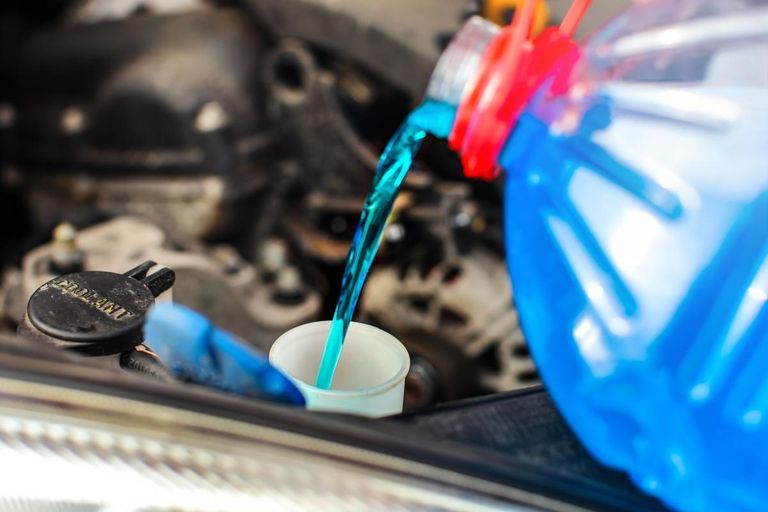 Image: Canva
Your camper must be able to withstand extreme conditions when you go camping in the winter. That means it should be equipped with a heater, and it should be well-insulated. Heated water tanks, which prevent pipe damage by ensuring that the water doesn't freeze, are also indispensable. If you put antifreeze in your tank to keep the water from freezing, do not drink it or use it when brushing your teeth, as it will no longer be potable. There are also additives to keep your wastewater tank and cassette toilet from freezing.
3. Bring Enough Gas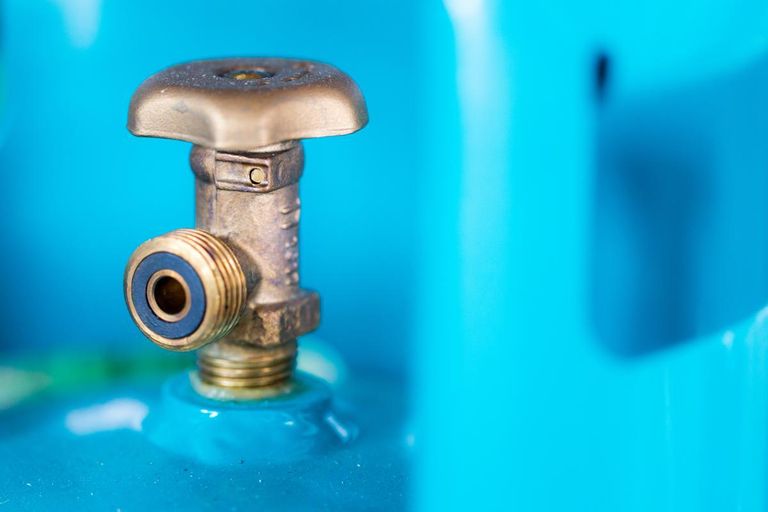 Image: Canva
It's crucial that you bring enough gas with you because the heating systems and stoves in many campers run on gas. That's especially the case if you'll be staying at a campsite that doesn't sell gas cylinders. After a long day of snowshoeing, it's nice to make some hot soup or take a warm shower before cuddling in bed with an electric blanket. It can get very cold if you run out of gas, and then winter camping won't be as much fun.
4. Winter Tyres, Snow Chains, and the Access Route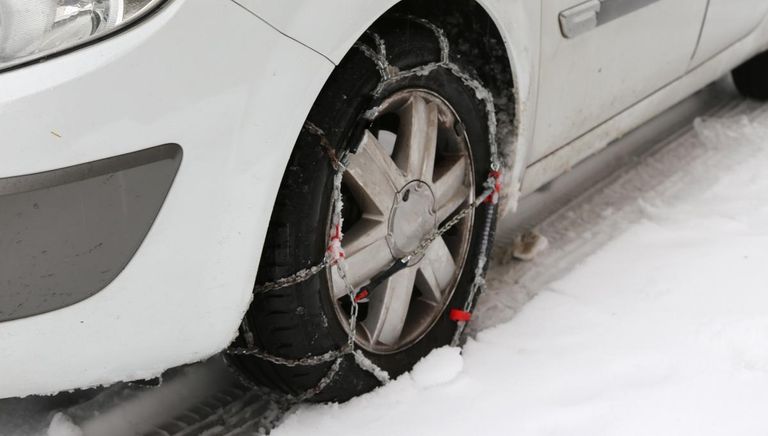 Image: Canva
Obviously, you shouldn't be on the road in winter without the appropriate tyres on your vehicle, but since it's better to be safe than sorry, here's a quick reminder: Don't forget to put winter tyres on your camper. If there's a chance of heavy snowfall where you're going, you'll also want to bring snow chains. Before you head out on your trip, check the current weather conditions and look into local conditions, such as what the access route is like (is there an incline, etc.). That way, you won't run into any unpleasant surprises, and you can arrive safely at your destination.
5. Use the Right Power Source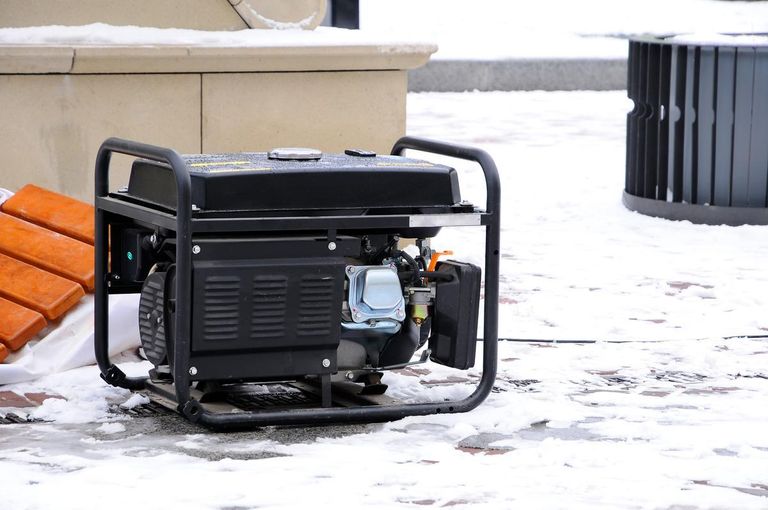 Image: Canva
Using your camper's leisure battery as your main source of electricity will backfire in the colder months. The cold will already affect its power, and it will be under significantly more stress if you leave it running for longer periods of time to power the lights as soon as it starts to get dark. You should try to hook up to the mains whenever you can, so don't forget a frost-proof cable with an average thickness of 2.5 cm.
6. Use Your Awning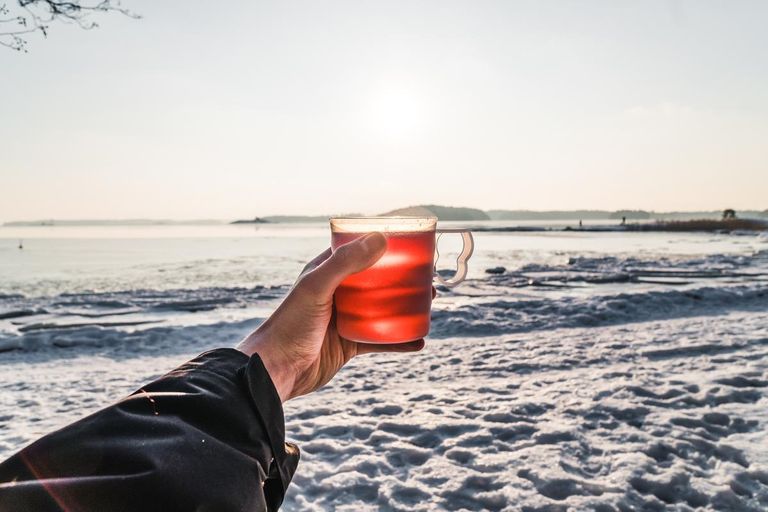 Image: Canva
Awnings are extremely practical when winter camping: The space you can actually use and live in is bigger, and you can use the area to store your ski equipment (if there's no other option for storing your things on-site). You can even use it as an airlock of sorts. It'll feel like home if you put out a small rug, and it'll help keep your feet warm. If you have a small heater or oven, you can then curl up with a good book, drink a glass of mulled wine, and stay cosy and warm as the wintery landscape unfurls its magic outside.
7. Important Tools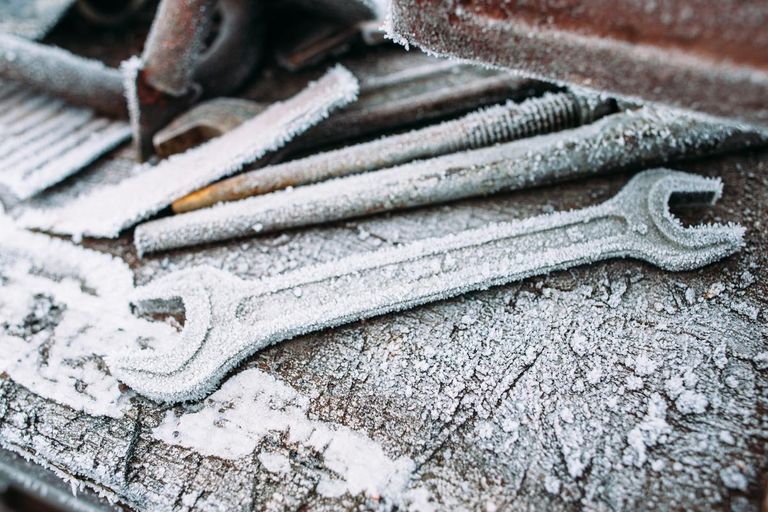 Image: Canva
Without the right tools, you'll be in quite a fix on a campsite in winter. You should definitely pack a hammer for getting the pegs of your awning into the frozen ground. And don't forget pliers to get them out again! A brush and an ice scraper with extendable rods are useful for clearing ice and snow off of larger vehicles. You should also bring a de-icing spray with you — or a hair dryer, which also works wonderfully for de-icing!
8. Pack Warm Clothing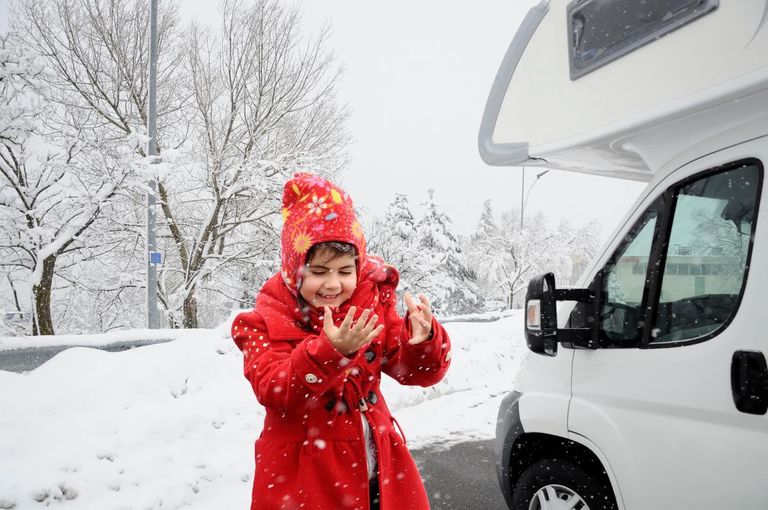 Image: Canva
Keeping warm is the most important thing when winter camping, so pack plenty of cosy clothes. If you plan to go skiing, don't forget your thermals! In addition to the usual winter things, bring extra pairs of warm socks, a blanket for the awning, and long nightwear. Pack a hot water bottle for the ice-cold nights, and don't forget to bring proper footwear and thick work gloves. Warm duvets will keep you cosy at night. Sunglasses are also a good idea, as they'll help protect your eyes from the sunlight that reflects off the snow.
9. Seal Your Windows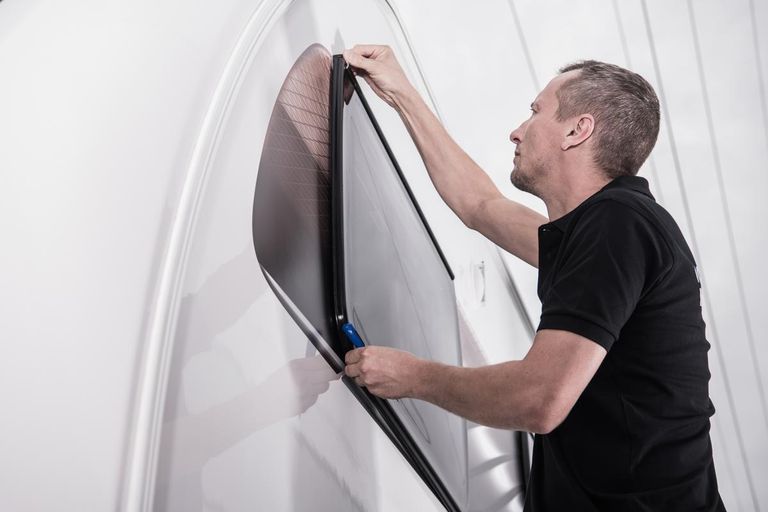 Image: Canva
Since the insulation of camper windows often leaves much to be desired, it's recommended that you cover them with a silver screen or a similar type of cover. This will help keep the heat inside, so you can stay cosy and warm. Thermal mats and heating pads warm the floor of your vehicle, so you don't get cold feet at the thought of climbing out of bed. With these tips combined, the inside of your camper will always be comfortable.
10. Bring Boards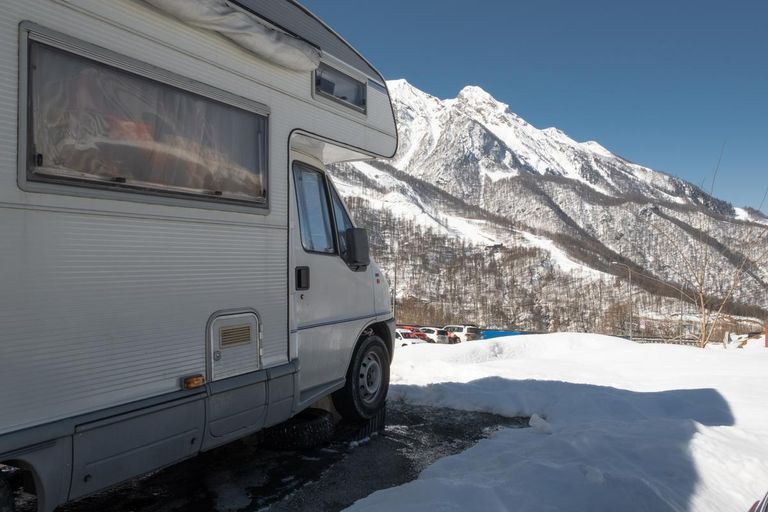 Image: Canva
Too much snow can lead to problems depending on what kind of ground your pitch has. If you put wooden boards right under the tyres or use them in addition to ramps, you're vehicle won't be at risk of sinking into the snow or mud, and your camper will be on firm, solid ground. Bring boards with you, or ask the campsite ahead of time if they have some available. It's always better to play it safe and have a few too many than to risk your motorhome or caravan sinking deep into the snow.
Once you've tried winter camping, you'll be hooked: Your dream of beating the flood of hotel guests to the ski lifts can finally become a reality. For more inspiration for your next camping holiday in a winter wonderland, check out our topic page.