C2C: 230 km from the Irish Sea to the Baltic Sea
Whitehaven – Kerwick – Penrith – Garrigill – Consett – Tynemouth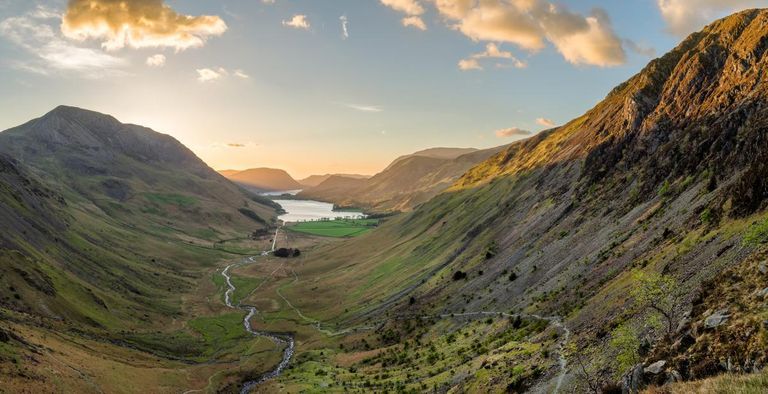 Running from coast to coast, or from sea to sea, the C2C runs across the United Kingdom near the Scottish border. It's the island's most popular long-distance cycling path, and it takes you from the Irish Sea on the west coast, through the Northern Lakes, over the Pennines, to the Baltic Sea on the east coast. Sections of the C2C are challenging, and the changing weather conditions require you to be in good shape and have a quality touring bike. The route takes you past lovely valleys with green meadows and by rough cliffs in more rugged parts of England. You'll find loads of little campsites along the way, such as the Waterside House Campsite in the Lake District National Park. A tip: If you ride west-to-east, the wind will most likely be at your back, so the only hurdle you might have to overcome is a herd of sheep, but that's not so bad!
Baltic Sea Cycle Route Poland: 475 km along the Polish Amber Coast
Swinoujscie – Pobierowo – Kołobrzeg – Darłowo – Ustka – Kluki – Leba – Krokowa – Gdańsk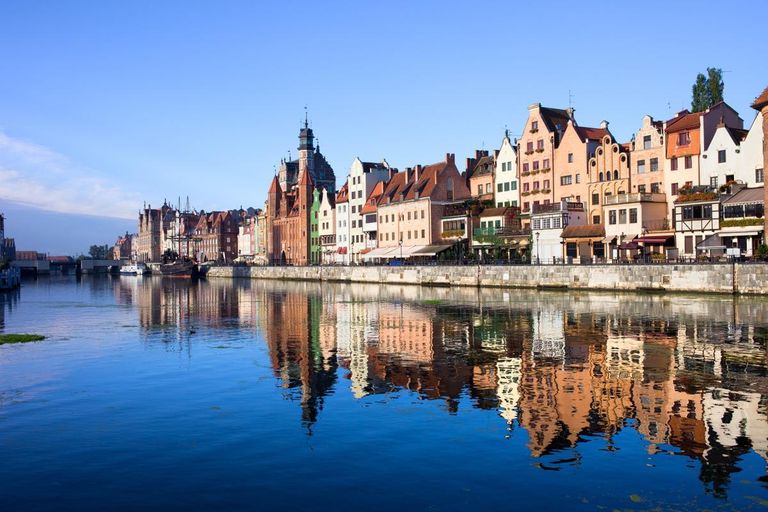 Long, white beaches, tall dunes, and pristine nature await you on this ride along Poland's Baltic coast. This 475-km long cycling path is partially made up of roughly-paved and dirt paths and brings you by old seaside resorts with 19th-century charm. Get ready for an adventure! But don't worry, the challenging sections are broken up by quiet side roads, the view of the sea, and the fresh smell of the forest in Wolin National Park, which all make it worthwhile. Nevertheless, you don't want to underestimate this route; work up to it and be in good shape when you kick things off on Usedom. There are plenty of campsites along the way where you can rest up for the next leg of your journey, such as Camping Horyzont near Władysławowo, at the base of the Hel Peninsula.
North Sea Cycle Route Netherlands: 570 km through the Land of Cyclists
Sluis – Middelburg – Brouwersdam – Hook of Holland – Katwijk – Den Helder – Callantsoog – Harlingen – Holwerd – Lauwersoog – Delfzijl – Bad Nieuweschans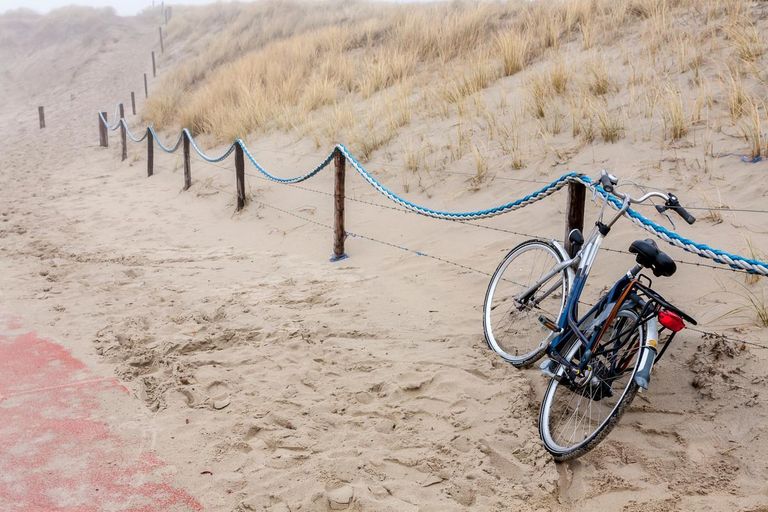 If there's a country of passionate bicyclists, it's the Netherlands, so it's no wonder that there's a very well-developed network of cycling paths here. One of the best routes for a long-distance cycling holiday follows the North Sea coast and is part of the international North Sea Cycle Route. You'll start in Sluis, where you'll ride by sandy dunes, past Zeeland's islands and historic villages, and finally arrive in Bad Nieuweschans. The wide, tranquil landscapes are perfect for relaxing, even as you ride. Or, if you want to take a longer break to unwind, you can do so at Recreatie De Zeehoeve near Harlingen. You'll truly be spoilt for choice when choosing your campsites for this journey, though, because if there's anything the Dutch love as much as biking, it's camping! Even though the Netherlands is relatively flat, there are a few inclines around the dunes, and you won't want to underestimate the ever-present wind, either. The road is long, but it's still perfectly suitable for beginners and families.
Meuse Cycle Route: 280 km along the Meuse
Maastricht – Liège – Namur – Dinant – Haybes – Villers-Semeuse – Sedan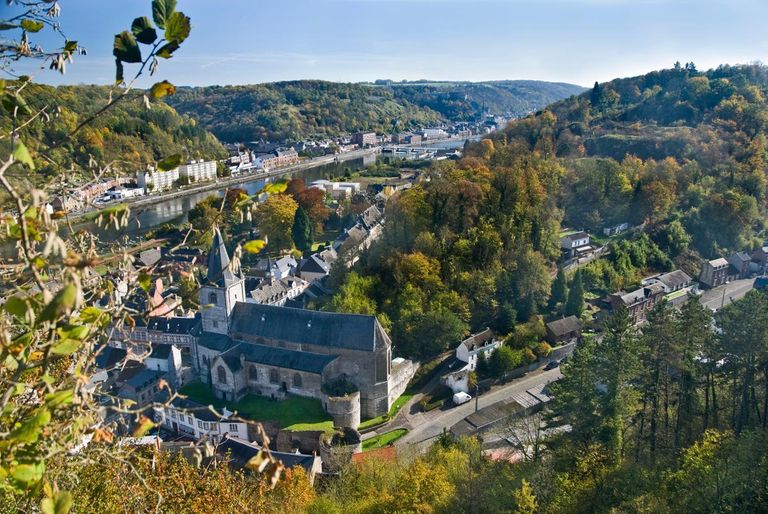 If you're a fan of Benelux, the Meuse Cycle Route follows the river of the same name through the Netherlands, Belgium, and France. This route is well-developed, signposted, and brings you through one quaint place to the next. You'll love the diverse landscape, enjoying the view of the rolling hills of the Ardennes and the sparkling waters of the river. The route's excellent paths, as well as the number of campsites located alongside it, make it ideal for a cycling holiday. Camping Les Trieux is in a lovely location near Namur. Here you can rest up from the journey and sip a glass of wine. And if the weather turns poor, there's a regional train that traverses the Meuse valley and can get you to your next stop, dry and warm.
Rhone Cycle Route: 325 km through Southern France
Lyon – Valence – Montélimar – Bourg-Saint-Andéol – Orange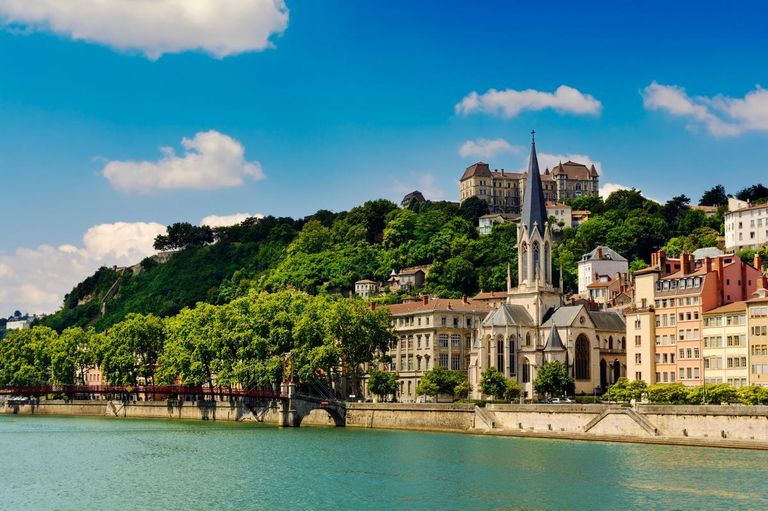 Another lovely riverside long-distance cycling path is the Rhone Cycle Route: The Rhone is the fastest and most powerful river in France, and it winds between massifs, cornflower fields, and orchards on its way to the Mediterranean. The route is perfect for beginners and families, because it is an easy ride, has plenty of signs, and is mostly paved. During your journey, you'll likely come across traces of the Ancient Romans, indulge in French cuisine, or maybe even take time to dive into the cool waters, because there are several beaches along the river. Sections of old hiking paths were reopened for the Rhone Cycle Route, and these will often bring you right to a campsite, such as Camping Le Soleil Fruite, where you can spend a night or two. So hop on your bike and be whisked away by the Rhone!
Pilgrims Route: 862 km to the Edge of Enlightenment
Pamplona – Estella – Logroño – Santo Domingo – Burgos – Castrojeriz – Sahagún – León – Astorga – Ponferrada – Pedrafita do Cebreiro – Portomarin – Arzúa – Santiago de Compostela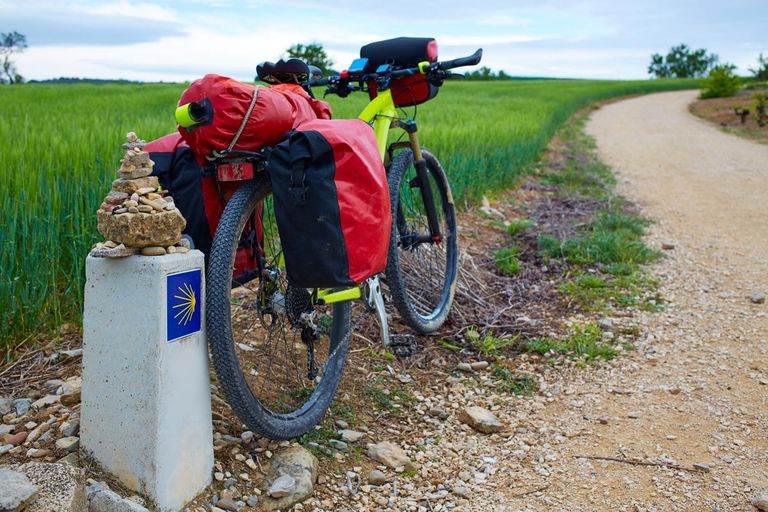 The Camino de Santiago, also known as the Way of Saint James, is one of the world's most famous pilgrim paths; nearly 200,000 pilgrims travel along this path on their way to Santiago de Compostela. Although people typically walk it, about 10% ride their way along this 1,000-year-old route. It largely follows the same way as the walking path, and it brings you through gorgeous nature, quaint mountain villages, and regal cities. Most pilgrims spend their nights in one of the many pilgrims' hostels situated along the way. There are several campsites there as well, and you can carry a tent on your bike much more easily than if you were walking. Camping Ciudad de León lets you explore León as you recharge from the ride. At the end of the journey, you can pick up your pilgrimage certificate at the cathedral, and you'll be one step closer to enlightenment.
EuroVelo 8: 280 km by the Beaches of Andalusia
Cadiz – Barbate – Los Barrios – Torreguadiaro – Estepona – Marbella – Torremolinos – Málaga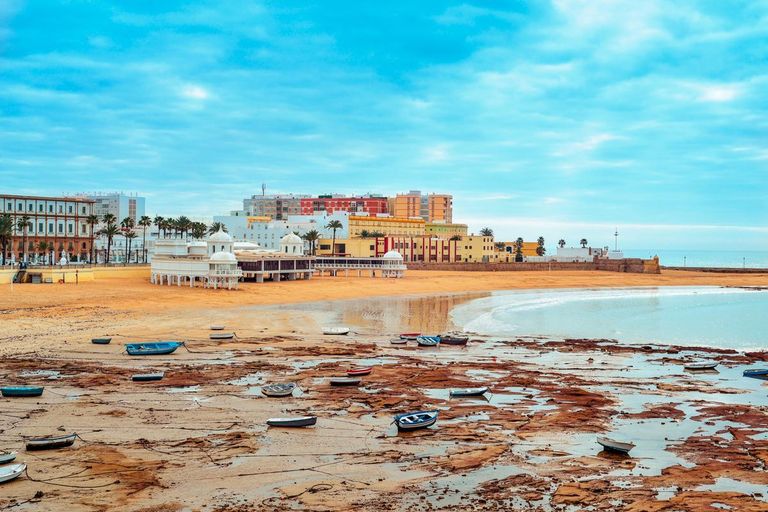 It's no wonder why the Mediterranean is Europe's top destination: Here, you'll find gorgeous beaches, lots of sunshine, and diverse coastal landscapes. The EuroVelo 8 Route goes from the north coast of Gibraltar to Athens, and you can tackle part of it on the coast of Andalusia, from Cadiz to Málaga. This long-distance bicycling route is partially unpaved, making it more suitable for experienced cyclists, especially since the nearly 3,000 annual hours of sun and high temperatures can be a real challenge. Many cyclists take their chances, though, because the route's good infrastructure, the numerous coastal campsites, and the diverse landscapes are all major pluses. Camping Sureuropa, for example, is right on the promontory of Gibraltar, so you can easily jump right into the sea or explore the peninsula from here.
Berlin–Usedom Cycleway: 390 km from the German Capital to the Coast
Berlin – Oranienburg – Dannenwald – Fürstenberg – Userin – Neubrandenburg – Ueckermünde – Usedom – Ahlbeck – Bansin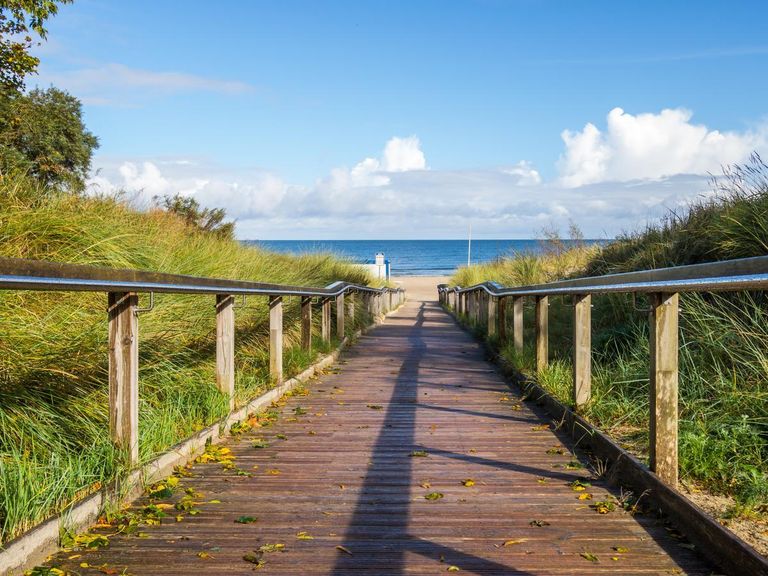 This cycling path takes you from the loud, crowded streets of the German capital, through the woods of the Barnim countryside, across the Uckermark region, to the tranquil shore of the Baltic Sea. The route is excellent for beginners and families, because it is made up of bike paths in good conditions and winding country roads, and there are only a few, small inclines. You'll pass through all sorts of historic places and by large lakes that are perfect for a swimming break. The best part of the path is probably just after you've left Berlin, when you finally arrive in peaceful, rural Brandenburg. Both there and on the coast, you'll find plenty of campsites, such as the Ferienpark Ueckermünde-Bellin GmbH, that will gladly take you in on your journey.
Kustlinjen: 565 km through Sweden's Enchanted Forests
Västervik – Valdemarsvik – Söderköping – Nyköping – Trosa – Botkyrka – Stockholm – Åkersberga – Östhamra – Gässvik – Lavarö – Öregrund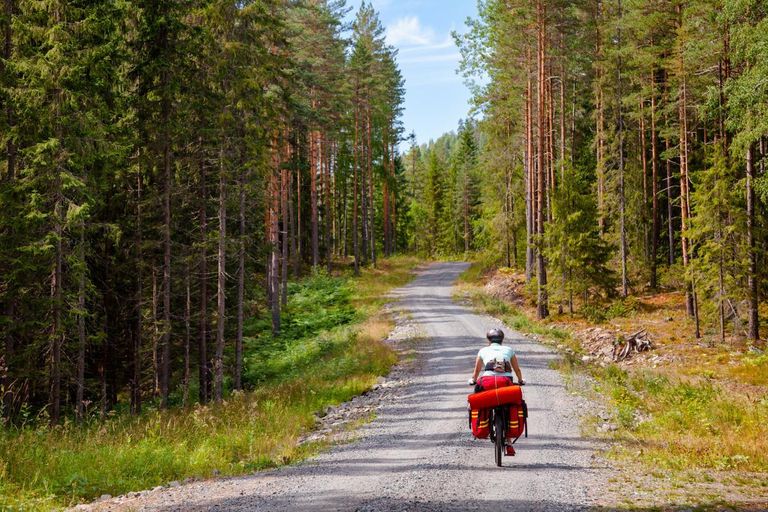 Sweden: Home of Pippi Longstocking, where Gray Dwarves still live, and Harpies roam through the forests. Along the coast of this fairy-tale country, you'll find Kustlinjen, a south-to-north cycling path that even goes by the Swedish capital, Stockholm. The entire route is signposted and absolutely lovely, bringing you through dark woods, always heading back towards the shore of the Baltic Sea, where you'll get a great look at the islands and skerries. In many spots, you'll have the opportunity to take a short ferry ride to cross an inlet. Of course, you can always ride around it if you'd prefer! While you're here, you can spend the night on one of the campsites scattered along the route, or you can make use of Sweden's Freedom to Roam and give wild camping a try for a night. If you want to explore the Swedish capital and maybe take a one or two day break, check out Bredäng Camping Stockholm. You'll love the gorgeous natural surroundings (and the fresh cinnamon rolls!) that you'll find in the towns along your way north.
Danube Cycle Path Vienna — Budapest: 320 km through Ancient Empires
Vienna – Hainburg – Bratislava – Mosonmagyaróvár – Győr – Komárom – Esztergom – Visegrád – Szentendre – Budapest
The Danube Cycle Route is one of Europe's most well-known bicycling paths, and it follows its namesake, the Danube river. The section between Passau and Vienna is often travelled, but there is a lonely route for adventurous cyclists behind the Austrian capital, which passes by natural shores and old royal cities. The route between Vienna and Budapest is partially on unpaved roads that are currently in development, making them better suited for experienced cyclists in good shape. As you pedal along the river, you might notice traces of the Austro-Hungarian Empire and start day-dreaming of Empress Elisabeth. Depending on which side of the river you ride along, you'll either be in Hungary or Slovakia. In addition to having a variety of campsites and great restaurants along the way, the beautiful cities of Vienna, Bratislava, and Budapest are this route's highlights. You should plan to spend an extra night in Budapest, your final destination: You can stay at Arena Camping in the eastern part of the city.
Can you hardly wait to get your bicycle from the basement and pedal off on an adventure? We know just how you feel! Before you head out on a multi-day cycling trip through Europe, be sure you have everything you need by checking out our ultimate packing list. We'd also love it if you'd share your experience at any of the campsites along the cycling paths on camping.info!