Find a Suitable Spot
You'll want to find a place that will keep your camper covered, dry, and protected from the elements. If you don't have a large garage or a barn, you may find it challenging to find an appropriate location nearby. Sometimes motorhome and caravan dealers offer storage options, but this can be quite pricey. With some luck, you may find something listed on an online portal for classified ads or in your local newspaper.
If all else fails, your camper can survive the winter unscathed out in the open: But be sure not to park it under a tree, since falling leaves and branches could scratch up the paint. You could park your motorhome or caravan kerbside or on public car parks, but only if your vehicle is registered all year round.
If you plan to park your camper on private property and won't be using it all winter long, you can potentially save money on taxes and insurance by cancelling your vehicle's registration temporarily. Just be sure to check when your vehicle's sticker expires: If your inspection date is in the middle of your "winter break", make an appointment earlier than usual to avoid inconveniences and any additional costs.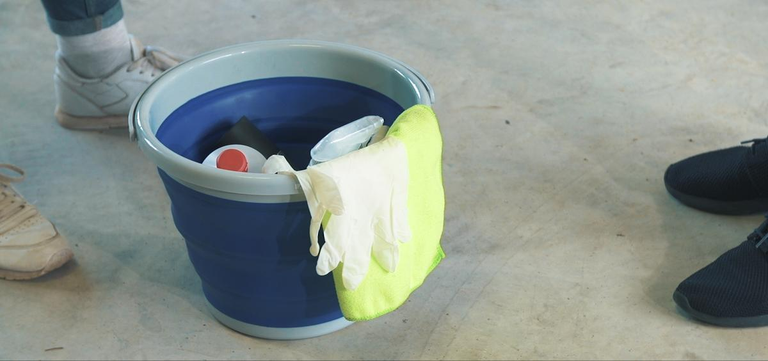 Image: Canva
A Clean Sweep: Clear Out, Clean, and Care
Before winter arrives, make your mantra: "Everything must go"! Be sure to clean every corner of your motorhome, because forgotten bits of food can attract mice, rats or insects, and moisture can lead to mould. Plus, dirt and grime will be much easier to get rid of now than it will be later!
Here's a checklist for the inside of your camper:
Clear out all food

Defrost your refrigerator, wipe it down, and leave it open

Put the winter covers on your refrigerator and heater (if applicable)

Clean out the cabinets, wipe them down, and leave them open for better air circulation

Treat rubber seals to keep them supple and malleable

Set up a dehumidifier

Remove bedding

Stand up seat cushions and mattresses for better air circulation, or store them in a dry place (such as in your home)

Close the gas taps, unscrew the gas cylinder, and put on the protective cap; store these in a dry place if you can

Oil hinges and locks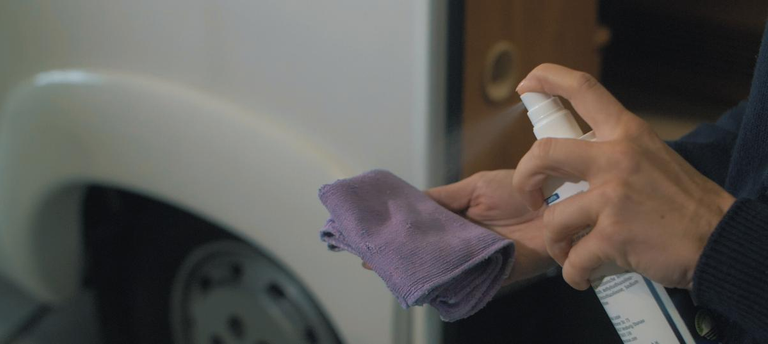 Image: Canva
Empty the Water System
Don't forget to empty all the water tanks and pipes: This will keep them from freezing and bursting, and it will prevent algae growth. Before you empty the tank, turn off the pumps and open all the taps: The vacuum this creates will remove any water left in the pipes. Finally, clean the tanks with brushes and sponges, and then wipe them dry. Leave all the taps open.
Clean and Prepare the Vehicle
You'll also need to clean and prepare the outside of your camper for winter to protect it from frost.
Here's a checklist for the outside of your camper:
Wash the outside of your vehicle with mild car shampoo, a sponge, and a soft brush

Clean the vehicle's underbody

Repair any damage to the paint job to prevent rusting

Clean the awning and let dry (grease the hinges if necessary)

Fill up the tank, ideally with winter diesel

Refill coolant, fill windscreen washing system, and add antifreeze

Increase the tyre pressure by about 0.5 bar (or about 7.25 psi) to minimise deterioration during storage

Make sure your vehicle is straight (level out unevenness with levellers), and crank out the supports to lessen the burden on the wheels

Secure the vehicle with ramps, put it into first gear, and release the parking brake

Flip the wipers forward

Fully charge the vehicle's battery

Install anti-theft systems (such as a wheel clamp) if desired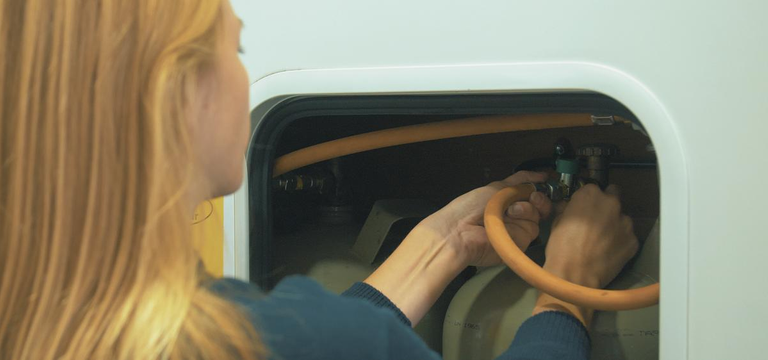 Image: Canva
You should also check on your motorhome once a month. When you do, air it out and push it about half a rotation backwards or forwards. You should also recharge the battery and refill the dry granules in your dehumidifier. That way, your motorhome will survive the winter and will be ready to go on your next camping adventure come spring!
With these tips and tricks, you should have no problem winterising your camper. Be sure to check out our other articles for beginners in our magazine.